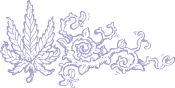 Organic Marijuana, Soma Style
A breeder of international fame, Soma is synonymous with earth-friendly grow techniques and an appreciation for the healing qualities of marijuana. Now in his first-ever book, this sage of the marijuana scene shares his methods and philosophy with a collection of his best works, all-new essays and stunning photography.
Soma offers detailed advice for every stage of growing organically: selecting seeds and mother plants, making clones, creating one's own soil mix, using organic pest control and knowing the best time for harvesting. With these instructions, gardeners of all levels can learn to grow marijuana with the sublime qualities and subtleties of flavor and effects that have made this breeder legendary. Sixteen pages of Soma's lush full-color photography help to showcase his methods and varieties.
Much like organic food has become increasingly popular through a heightening of awareness, Organic Marijuana raises consciousness about growing an outstanding crop of marijuana while respecting both environmental and individual health.
This second book in the Marijuana Tips series continues to present the tips and techniques that only expert growers can provide.
Learn how to:
sprout seeds and care for seedlings
make your own organic soil
Build indoor grow beds for organic success
use the best organic fertilizers and supplements
control pests organically
maintain a mother garden
select varieties and begin breeding
produce all-female seeds naturally
We start processing your order as soon as we reveived your payment.  So the sooner we receive your money the sooner you will receive your order.
We are extremely concerned about the quality of the seeds that come to you. Therefore, we provide additional protection in the envelope and check the seeds before we send them to you.  We send our seeds within a week after we recieved your money!
The estimated time of delivery is:
Holland:  1 or 2 working days
Europe: 3 to 5 working days
We ship our seeds in plain packages. You won't see anything from our shop on the outside of the packaging.
Unfortunately we don't accept creditcard payments at the moment. We offer banktransfer, cash in enveloppe ( registered shipping) and crypto payments (possible to get cryptocurrency with creditcards).