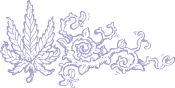 Super skunk – Big Skunk Korean – Afghani – Hawaiian
Lavender brings together a world of weed. Strains with histories that traverse Afghanistan, Hawaii, Korea, the U.S, and Europe are all melded together in this 3-way cross. An exotic looking strain, Lavender develops the darkest purple coloration you can imagine.
The color is intense, with the leaves turning nearly to black at the ends, they are so deeply saturated with color. The extra dense buds give off a sensually spicy smell akin to Afghani hash.
The high calyx to leaf ratio and the legginess of this plant make for simplified manicuring. While not as tall as the Haze strains, Lavender can shoot to tall heights when allowed an extended vegetation period before being placed into the flowering phase. If grown in a sea of green, Soma recommends a shortening the veg cycle in order to control the height. This strain will also do well as a multi-branched plant.
Outdoor
Outdoors, this variety can thrive in a most temperate zones, although arid climates known for their rich agricultural promise are of course optimal. Lavender has a flavor that is similar to Afghani hash, producing a captivating high that circulates through every chakra. A terrific evening or rainy day smoke, Lavender will leave you feeling relaxed and mellow, possibly to the point of sleep.
We start processing your order as soon as we reveived your payment.  So the sooner we receive your money the sooner you will receive your order.
We are extremely concerned about the quality of the seeds that come to you. Therefore, we provide additional protection in the envelope and check the seeds before we send them to you.  We send our seeds within a week after we recieved your money!
The estimated time of delivery is:
Holland:  1 or 2 working days
Europe: 3 to 5 working days
We ship our seeds in plain packages. You won't see anything from our shop on the outside of the packaging.
Unfortunately we don't accept creditcard payments at the moment. We offer banktransfer, cash in enveloppe ( registered shipping) and crypto payments (possible to get cryptocurrency with creditcards).