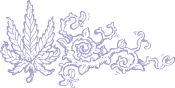 Haze
Amnesia Haze won first prize at the High Times Cannabis Cup 2012.
Amnesia Haze is a very complicated genetic cross. You have the magnificent Southeast Asian genetics (Thai sticks, Cambodian, Laotian) of which were my all time favorites. Then you have the fine Jamaican Haze varieties with their high THC percentage and sharp flavor. It also has an Afghani-Hawaiian genetic crossed in, speeding up the flowering time and further enhancing the taste. The result is a strain that has won first place in 3 different cannabis contests in the Netherlands in the past years, including The High Times Cannabis Cup 2004. Barney's Breakfast Bar won first place for the all-around Cannabis Cup with the Amnesia Haze that he got from me. It has continued to be one of his best sellers to this present date. For a grower the Amnesia Haze is a slight challenge, taking up to 13 weeks to finish flowering, but with the excellent yield and amazing high and taste, it is well worth it.
Min yield: 40g. per plant
70% sativa / 30% indica
12-13 weeks flowering
We start processing your order as soon as we reveived your payment.  So the sooner we receive your money the sooner you will receive your order.
We are extremely concerned about the quality of the seeds that come to you. Therefore, we provide additional protection in the envelope and check the seeds before we send them to you.  We send our seeds within a week after we recieved your money!
The estimated time of delivery is:
Holland:  1 or 2 working days
Europe: 3 to 5 working days
We ship our seeds in plain packages. You won't see anything from our shop on the outside of the packaging.
Unfortunately we don't accept creditcard payments at the moment. We offer banktransfer, cash in enveloppe ( registered shipping) and crypto payments (possible to get cryptocurrency with creditcards).