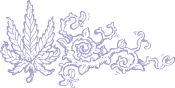 Amnesia Haze x Lavender #1
Min yield 40-50 grams
40% indica 60% sativa
Flowering
9-10 weeks
This is one of our latest hybrids and launched in feminized seedform in 2020. A friend of us in California made this similar cross but exchanging the genetics was difficult so we decided to make this cross here in Amsterdam.
One of our most indica strains and one of our most sativa strained combined gives a head and body buzz. It is a strain that brings you in complete relaxation and is well balanced. When Soma's smoked this strain for the first time he said: this is our next winner. We will enter this in one of the next competitions.
This strain grows medium to tall and is very easy to grow. It needs 9 to 10 weeks of flowering. It is very high in THC and she got great terps. This strain is ideal also for making waterhash or rosin because of it's terpene profile and big trichomes.
We start processing your order as soon as we reveived your payment.  So the sooner we receive your money the sooner you will receive your order.
We are extremely concerned about the quality of the seeds that come to you. Therefore, we provide additional protection in the envelope and check the seeds before we send them to you.  We send our seeds within a week after we recieved your money!
The estimated time of delivery is:
Holland:  1 or 2 working days
Europe: 3 to 5 working days
We ship our seeds in plain packages. You won't see anything from our shop on the outside of the packaging.
Unfortunately we don't accept creditcard payments at the moment. We offer banktransfer, cash in enveloppe ( registered shipping) and crypto payments (possible to get cryptocurrency with creditcards).