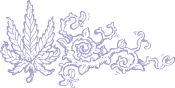 Lavender x Soma's cut True OG Kush
Min yield 35-40 grams
Indica 70 % Sativa 30%
Back in the late nineties Soma did a lot of different breeding experiments and one of the plants Soma came up with was Soma Skunk nr 10. The more people that try the genetics the leaves turned black and purple. Soma changed the name into Lavender.In 2005 this strain won first prize at the Hightimes Cannabiscup and Amsterdam and after that it's a multiple prize winner (Spannabis 2017).
Soma has an old friend who loved to grow the Lavender. He did always a very good job at it. Our friend Joe reversed a female True OG Kush plant that we have for sometime. And he came up with the new cross that we really like. It has a special taste.
It makes Soma connect in a way with Joe who passed away few years ago in a real heart felt way and makes us smile this cannabis. It is not really hard to grow. If you supercrop the main top the side tops follow very quick. It makes a very nice hash: very terrine rich lavender and OG flavour.
At the Clouds in the City Cup in Amsterdam this strain won third prize for best indica and during the Clouds in the City cup we won 2nd place for best water hash.
We start processing your order as soon as we reveived your payment.  So the sooner we receive your money the sooner you will receive your order.
We are extremely concerned about the quality of the seeds that come to you. Therefore, we provide additional protection in the envelope and check the seeds before we send them to you.  We send our seeds within a week after we recieved your money!
The estimated time of delivery is:
Holland:  1 or 2 working days
Europe: 3 to 5 working days
We ship our seeds in plain packages. You won't see anything from our shop on the outside of the packaging.
Unfortunately we don't accept creditcard payments at the moment. We offer banktransfer, cash in enveloppe ( registered shipping) and crypto payments (possible to get cryptocurrency with creditcards).