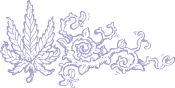 SO G Kush x Purple Haze
Min yield 30-40 grams
80% indica 20% sativa
Flowering
7-9 weeks
Our friends from a local coffeeshop crossed their three way Purple Haze with a SoG Kush .The result of this combination is a very surprising gift. Huge, resin covered flowers are produced by this strain. The smell of the flowers is very berry for the pinkish phenotype and spicy for the purple phenotype. We made our own selection from seed and found the one that is exceptional.
The SoPurple plant is pure eye-candy. Expect huge plants outdoors with a lot of coloring, ranging from pink to green to purple and very complex aromas of blackberries, haze and vanilla. Indoors some phenos are ready after 7 weeks of flowering. Easy to grow and maintain!
The parents come back strong in this plant, you will have a lot of joy working with this plant. This is a limited seed drop, so be quick to get some of these seeds before they run out.
We start processing your order as soon as we reveived your payment.  So the sooner we receive your money the sooner you will receive your order.
We are extremely concerned about the quality of the seeds that come to you. Therefore, we provide additional protection in the envelope and check the seeds before we send them to you.  We send our seeds within a week after we recieved your money!
The estimated time of delivery is:
Holland:  1 or 2 working days
Europe: 3 to 5 working days
We ship our seeds in plain packages. You won't see anything from our shop on the outside of the packaging.
Unfortunately we don't accept creditcard payments at the moment. We offer banktransfer, cash in enveloppe ( registered shipping) and crypto payments (possible to get cryptocurrency with creditcards).