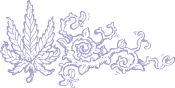 4G(Gelato #45 x Gorilla Glue #4 x Girl Scout Cookies) x Lavender OG
Min yield 50-60 grams
80% indica 20% sativa
Flowering
8-10 weeks
4G is a cross between Gelato #45 x Gorilla Glue #4 x Girl Scout Cookies, originally bred by Purple Caper Seeds. It got his name because of the G's in the parents and we decided to call this 5G because of the final parent: our cupwinning Lavender OG. The Cola's have a tight bud structure that stack well giving growers the quality high yield they are looking for. We crossed the 4G with Lavender OG to give it a much better smell and taste. The result is a heavy to moderate yielder that finished in 8-9 weeks. Suited for indoor and outdoor growing.
They get massive, grows extremely easy, with no issues and super resilent. Quite pretty and gorgeous flowers.
It has the same distinct smell as Gorilla Glue, with hints of Lavender OG. Yet more mild in scent radius for locations where scent is an issue. It has an sweet and Sour afghani flavor. The 5G is very euphoric and offers a balanced and relaxed effect. Used to treat depression and lack of appetite. Very pleasant high.
We start processing your order as soon as we reveived your payment.  So the sooner we receive your money the sooner you will receive your order.
We are extremely concerned about the quality of the seeds that come to you. Therefore, we provide additional protection in the envelope and check the seeds before we send them to you.  We send our seeds within a week after we recieved your money!
The estimated time of delivery is:
Holland:  1 or 2 working days
Europe: 3 to 5 working days
We ship our seeds in plain packages. You won't see anything from our shop on the outside of the packaging.
Unfortunately we don't accept creditcard payments at the moment. We offer banktransfer, cash in enveloppe ( registered shipping) and crypto payments (possible to get cryptocurrency with creditcards).