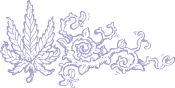 OG Kush
Min yield 30-40 grams
80% indica 20% sativa
Flowering
9-10 weeks
True OG is a selection of regular seeds that one of our friends did. The motherplant that we have we grow since 2008. The taste is very earthy and it makes great tasting hash. This is one of Soma's favourite strains.
True OG is a popular indica strain that was originally discovered in Southern California, where the term "OG" originally meant "ocean grown." Bred with genetics from the very popular OG Kush, True OG is potent enough for mellow, lasting effects combined with a more focused head high.
Ideally, OG Kush plants are kept at temperatures between 18 and 29 degrees Celcius. Indoor/outdoor: Grows well both indoors and out. Its dense buds can make it susceptible to bud rot when humidity is high, making it ideal for drier climates if grown outdoors.
Our phenotype of the True OG has wonderful terpenes that are a bliss to smoke.
We start processing your order as soon as we reveived your payment.  So the sooner we receive your money the sooner you will receive your order.
We are extremely concerned about the quality of the seeds that come to you. Therefore, we provide additional protection in the envelope and check the seeds before we send them to you.  We send our seeds within a week after we recieved your money!
The estimated time of delivery is:
Holland:  1 or 2 working days
Europe: 3 to 5 working days
We ship our seeds in plain packages. You won't see anything from our shop on the outside of the packaging.
Unfortunately we don't accept creditcard payments at the moment. We offer banktransfer, cash in enveloppe ( registered shipping) and crypto payments (possible to get cryptocurrency with creditcards).