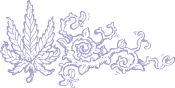 Afghani – Big Skunk Korean – Hawaiian Super Skunk
2nd place, 2001 High Times Cannabis Cup, Best Indica
Previously called Soma Skunk V+, this variety was renamed Buddha's sister to suit her tendencies and advance her appeal to Amsterdam coffeeshops. What's in a name? Directly after this deliciously good weed acquired a more intriguing name, she regularly sold out at the coffeeshops, and remains one of the best selling weeds available at De Dampkring. This sibling of Siddhartha is tall and lanky. In the cross with Afghani Hawaiian, she has a considerably increased yield, but less sweet taste than her other half, the Reclining Buddha. Buddha's sister has a flavor like a tart cherry candy, and the scent is similarly tart rather than sweet. The buds have a slippery, silky feel, which means an abundance of greasy resin to make into fantastic hash. She even gives a lot of finger hash that you won't want to wash away after grooming plants. As with all of Soma's varieties, Buddha's sister is medicinal quality cannabis, therapeutic for many conditions. The high is powerful, creative and cerebral in its effects. A mostly indica variety, Buddha's sister tends to make lots of side branches, so she is better to grow as a multi-branch plant instead of in a sea of green. She will still thrive using a sea of green method with some attentiveness. This variety does well hydroponically, but Soma's totally organic soil methods also deliver great results. The more fluffy, loosely packed buds give this plant a resistance to mold while still delivering a pleasing yield.
Min yield: 25-35 grams per plant
Indica: 60% Sativa: 40%
9-10 weeks flowering
We start processing your order as soon as we reveived your payment.  So the sooner we receive your money the sooner you will receive your order.
We are extremely concerned about the quality of the seeds that come to you. Therefore, we provide additional protection in the envelope and check the seeds before we send them to you.  We send our seeds within a week after we recieved your money!
The estimated time of delivery is:
Holland:  1 or 2 working days
Europe: 3 to 5 working days
We ship our seeds in plain packages. You won't see anything from our shop on the outside of the packaging.
Unfortunately we don't accept creditcard payments at the moment. We offer banktransfer, cash in enveloppe ( registered shipping) and crypto payments (possible to get cryptocurrency with creditcards).