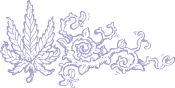 Hash Plant 13 – G13 Haze – Lavender
My next new strain is called Hash Heaven, and is a cross of Hash Plant-13 with G-13 Haze. This plant makes exceptional water hash. It comes out with an orange color and melts into vapor. You most definitely need a high ceiling in your grow space for this one as it can get quite tall. I have had great luck with super-cropping this plant. It is able to make many branches and as it grows I bend them to create as many top bud sites as possible. This makes for quite a good yield. The smell is not sweet it has a pungent aroma. The taste is sharp with a very strong high that lasts for hours. It needs 12-13 weeks to flower. It is about 80% sativa and 20% indica. Outside you need a semi-tropical environment.
Min yield: 40g. per plant
80% sativa / 20% indica
13 weeks flowering
We start processing your order as soon as we reveived your payment.  So the sooner we receive your money the sooner you will receive your order.
We are extremely concerned about the quality of the seeds that come to you. Therefore, we provide additional protection in the envelope and check the seeds before we send them to you.  We send our seeds within a week after we recieved your money!
The estimated time of delivery is:
Holland:  1 or 2 working days
Europe: 3 to 5 working days
We ship our seeds in plain packages. You won't see anything from our shop on the outside of the packaging.
Unfortunately we don't accept creditcard payments at the moment. We offer banktransfer, cash in enveloppe ( registered shipping) and crypto payments (possible to get cryptocurrency with creditcards).